Lamy Safari Special Edition 2023
Posted by Ziaul Asif Chowdhury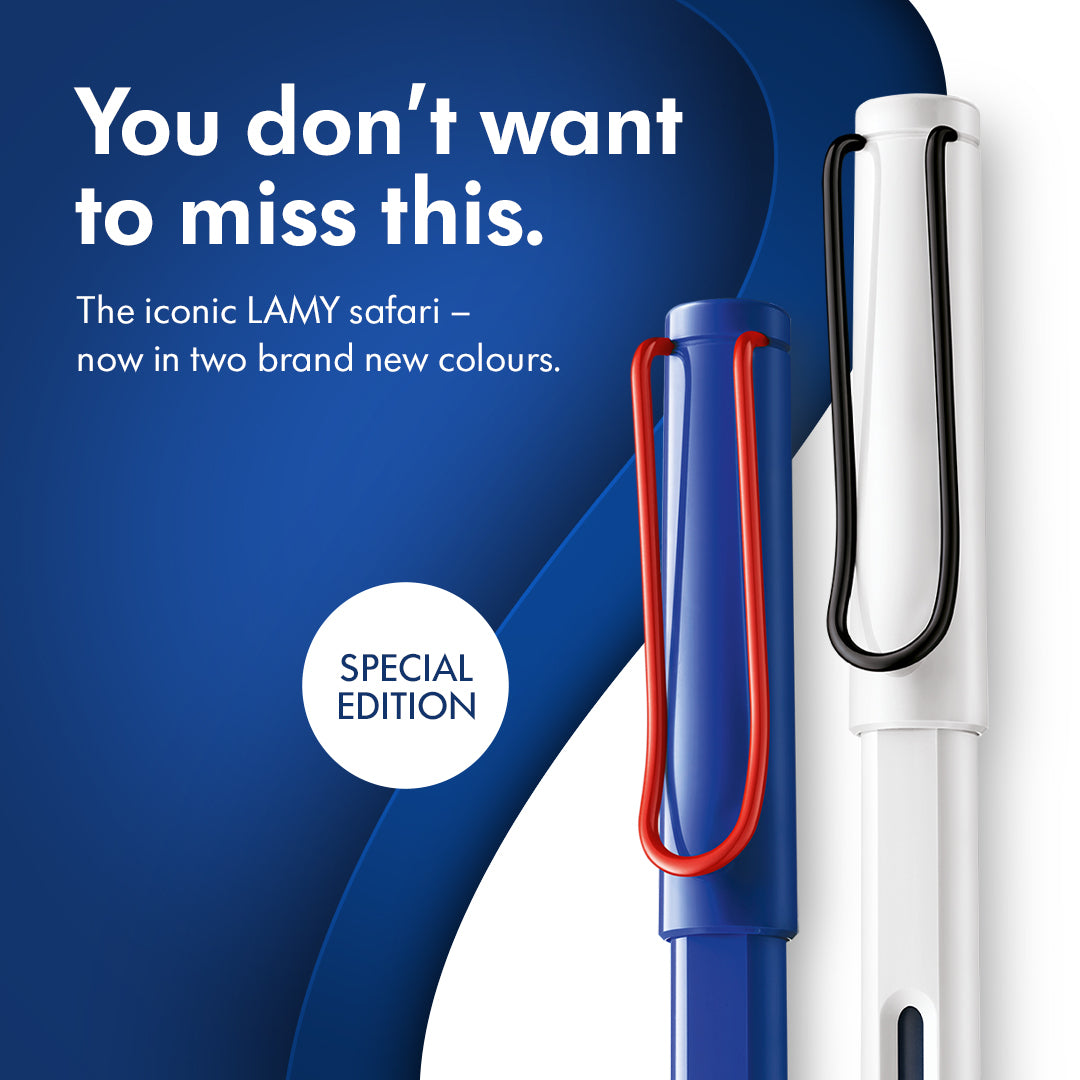 The LAMY Safari fountain pen is a popular German made affordable fountain pen that is known for its ergonomic design and durability. The pen is made of a precious resin plastic material that is lightweight and easy to grip, making it comfortable to hold for extended periods of time.
Special Edition - Blue-Red SE 2023 (Click Picture To View Details)
One of the most notable features of the LAMY Safari is its triangular grip section, which helps to reduce hand fatigue and promote proper writing technique. The pen also has a built-in clip that allows it to be easily attached to a notebook or pocket, making it a great option for on-the-go writing.
The LAMY Safari fountain pen comes with a stainless steel nib that is available in a variety of sizes, including fine, medium, and broad. The pen can be filled with either bottled ink or a LAMY T10 cartridge, making it easy to use and maintain.
Special Edition - Safari White-Black (Click Picture To View Details)
The LAMY Safari is available in a variety of colors, including black, blue, green, orange, pink, and yellow, making it a great option for those who want a fun and colorful writing instrument. The pen is also relatively affordable, making it a great option for both students and professionals.
The newly released Safari comes in Blue-Red and White-Black shiny finish with both interchangeable black steel nibs. These are special edition especially made for US markets which is now also available in Bangladesh through official retail partner - Pens Galaxy BD.
Overall, the LAMY Safari fountain pen is a durable and comfortable writing instrument that is great for both everyday use and travel. Its ergonomic design, built-in clip, and affordable price point make it a popular choice among fountain pen enthusiasts. 
Small Note:
Pens Galaxy BD proudly carries most of the LAMY models and we are the one and only authorized retail partner in Bangladesh - View - Certificate . It takes a lot of effort and expenses to keep a legitimate business running with all the paper maintenance yearly renewal fees (Tax, Duty Government Fees) here in Bangladesh. Yet everyone search for the established online retailers from abroad for example US retailers. They don't need to pay such high Duty and Shipping charges as we do and our duty percentage for pens is insane!
We don't get free shipping, free entry like the foreign retailers, we have to pay in every step. You will find other paperless sellers online pages who doesn't need any License or whatsoever, they even don't exits in the real platforms to be able to sell authentic products.
So if you're someone who knows how business is conducted in third world countries and the expenses we bear then we would highly suggest you to choose legal businesses like us. It'll help grow a small business which is either way good for the country and for it's customers. Lets support legal business.