Monteverde Ritma VS Lamy Safari
Posted by Ziaul Asif Chowdhury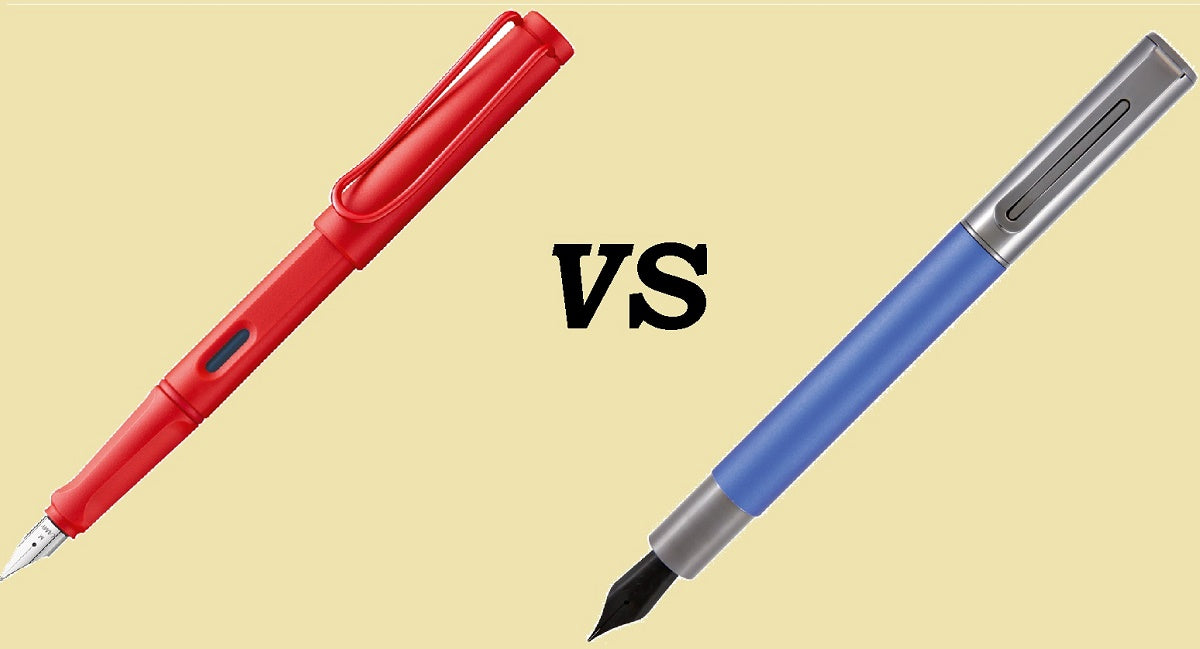 Choosing fountain pen is a little bit tricky and it requires some research as well trial if possible.
Then how we can actually decide a specific model or compare from one to other?
In this blog post I'm going to take a look at the two popular fountain pens that are similar in pricing.

Monteverde Ritma
(Click On The Picture Above To View Monteverde Collection)
Monteverde Ritma is a solid constructed fountain pen featuring magnetic cap which is great and every time you put the cap back it gives you a satisfying click, makes me wanna cap off and on – You know what I mean? Anyway, this pen comes with everything:
International converter
Ink cartridge (one blue and one black)
Warranty cards
Registration information
The Jowo German made nib that Monteverde has included couple years back is pleasant to write. When you first hold the pen you'll find it slightly heavy as it is made out of anodized metal .The matte finish makes it attractive, it is actually much more beautiful in real life than on pictures.
Open up the barrel you'll find a converter already installed, I would suggest all our users to clean the fountain pen nib units with a pen flush or with a little bit of liquid (mixer) soap . It helps to remove any  remaining residual oil left from the factory. This is applicable for all new pens as it will give you a fresh clean start and helps solving 90% of issues users face when first time filling ink. 
Let's get back to our topic now  - Writing experience is really amazing with this pen! The Jowo nib is smooth and glides on the paper, one more thing – Kindly make sure to insert the converter all the way in – Yes, I mean all the way inside and if you have received a Conklin pen or Monteverde Engage that has screw converter - Please make sure to screw the converter inside until it locks in! Otherwise, you'll face ink flow issues which took sometime for me to understand while figuring out what's going on with the Engage rollerball pen!
For Whom Monteverde Ritma?
If you like a little bit heavy pen, robust build quality and additional features such as the magnetic cap with converter and ink cartridges all in one package this pen is for you. It's  great for signing, short writings and of-coure for the elegant looks it's surely going to sit perfectly in your collection. Additionally, you have the option to choose between EF, F, M, B, 1.1MM (Stub) and Omniflex nib.
LAMY Safari
(Click On The Picture Above To View LAMY Collection)
When it comes to Safari we all know this is a work horse pen for beginners and experts. Made out of ABS resin, snap cap, heavily build for which you'll find users core collection for more than 10- 15 years!
Here in Bangladesh this pen includes:
Converter (Proprietary)
A blue ink cartridge
Elegant box
Warranty card
Thanks to LAMY Germany for it's smooth nib it literally glides on the paper and LAMY quality control is top notch! Nib options: EF, F, M, B
We have recently added Monteverde Ink Cartridges that fits LAMY fountain pens.
Affordable and has lots of color options as well.

(Click On The Picture Above To View Collection)

For Whom LAMY Safari?
Those who like lightweight pens for long writing sessions  and want to try out the other nib sizes as LAMY offers interchangeable nibs sold separately without buying a whole new pen. You can keep all the nib sizes in your collection and use as required.  Depending on your handwriting if you write small letters it is best to select the extra fine nib the other sizes goes along according to your preferred writing style. For regular normal size writing fine nib is good, for thick writing medium and broad often used for signing or for those who loves the shading of inks you'll get the best out of it.

Final Thoughts
Both are great starter pens, you just need to figure out your requirements.
You can check out all the pens from our fountain pen collection page.